OPTIONPEER™ WITH OPTIONTUTOR™

Your guide to the
Options market!
<! IMG SRC="ot_ttl1.jpg">

OPTIONTUTOR™ is your personal instructor:
An instructional workbook tutor, especially written for individual investors with stock investing experience.
Meticulously edited for an easy read.
An intuitive approach with no difficult mathematics.
Viewed with your web-browser program. The pages are stored as local files on your local hard disk - no network connection is required while viewing. The tutorial is equivalent to more than 180 pages if printed.
Step-by-step lessons requiring the OptionPeer software, reinforcing your knowledge as you apply the strategies, and teaching the software for use in future investing.
Covers stock, index and futures options, and many investing strategies.
Describes how to set up your account and "talk options" with your broker, so you don't feel lost after learning the strategies.
Trading tips to lock in the best buy and sell prices to achieve your desired gains. Also, how to conservatively allocate and diversify your option investments to avoid the heavy losses that can occur with novice investing. Includes topics such as detailed explanations of a short-sale, and stock split effects on option strike prices.
OptionTutor contains over 20 lessons that include tables to assist you in setting up the OptionPeer software to analyze a position: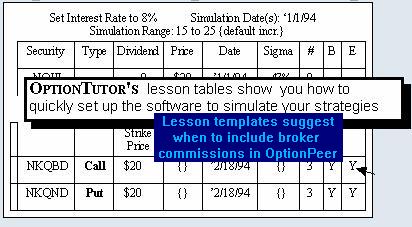 The lessons contain Observations to guide you through analyzing OptionPeer's results, pointing out the risk and reward tradeoffs:


Examples from OptionTutor: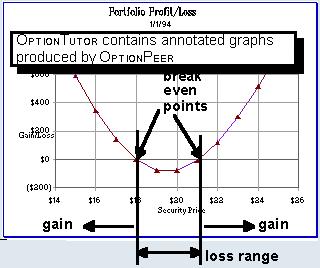 Requirements:
OptionTutor requires a web browser program (if you are reading this, you already have a browser). No active network connection is required while running OptionTutor -- all browser page files and diagrams are stored on your local computer when you install the product -- so you don't tie up a telephone line on your personnal computer while reading the tutorial.
Review OptionTutor's table of contents

Order the product